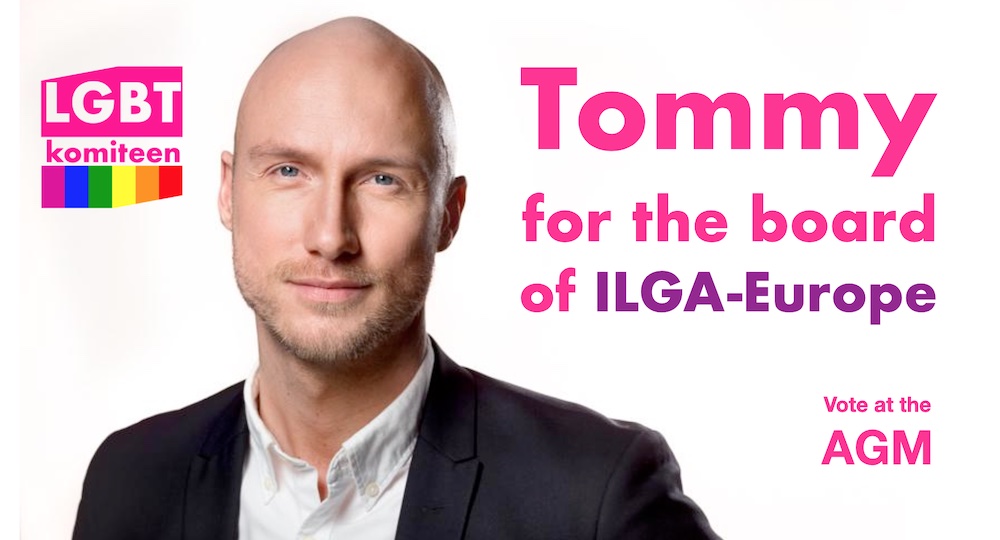 LGBT komiteen is nominating Tommy Petersen for the Executive Board of ILGA-Europe. We are pleased to nominate a strong and highly experienced candidate for the board of our European umbrella organisation. We hope for his success so that we can all benefit from him contributing to the future development of ILGA-Europe. Here follows tommy's candidate file.
Tommy Petersen:
Statement of Purpose
I am very passionate about improving the living conditions of LGBT+ people, and it would be a pleasure to be able to use my political, organizational and communications experience to advance the work of ILGA-Europe.
Through my involvement with the LGBT Committee, I have three topics , I would love to be able to contribute to in ILGA-Europe:
We are fighting to protect and increase the rights of LGBT+ families. We want families to be recognized across countries regardless of the parent's gender, gender identity and spousal status, and we want LGBT+ people to have better access to means to start a family.
We are also fighting for protection and equal recognition and rights of trans persons, and we care deeply about supporting and voicing support to this cause in the public debate. We push government, inter-government, labour market and private sector representatives for changes.
We fight to improve the mental and physical living conditions of the LGBT+ population in the light of the vast amount of research documenting the effects of traumas, bullying, discrimination, exclusion and more on our bodies and lives. We want countries, regions and cities to have LGBT+ policies and action plans to improve this situation.
Biographical Statement
I have been heavily involved in LGBT+ politics, lawmaking, fundraising and activism the last 10 years. I have driven a range of LGBT+ agendas both locally and nationally, at grassroot level and in the media. For example, during my time as a politician on the City Council of Copenhagen, I have pushed, designed, and funded Copenhagen's first LGBT+ policy with 50 concrete actions to take to increase the living conditions of the LGBT+ citizens within all areas of the Council's work. I have been a voice in the public debate on lgbt+ issues for many years, where I have been involved in a large range of issues.
In 2019, I was awarded the 'Humanist of the Year' award by the Danish Humanist Association, and in 2016, the 'LGBT Activist of the Year' award, by the official Danish LGBT award organization, Axgil Awards (now called Danish Rainbow Awards).
I am specialized in
policymaking and political processes,
business development and funding,
project management, and
strategic communications.I have extensive experience as board member of several boards;
I have international experience from the United Nations in Afghanistan, Iraq, Jordan, and the US, and I bring extensive international and Danish media experience to the table.
I am 44 y.o. and a father to 10 y.o. twin boys, which I have together with their two mommies. I live in Copenhagen with my children and my partner, Agustin, who is Spanish, and his 10 months old daughter.
Statement of Understanding
The Executive Board bears responsibility for the strategy of the organization, financial oversight and approval of budget and financial statements, as well as cooperating with the Executive Director on achieving the goals of the organization. Depending on the agreement with the Executive Director and the Chairperson of the Board, the Board can also be tasked with representing the organization externally and be closer involved in risk and crisis management.
I have many years of experience on boards.
I have been a board member of the national Danish Council on Taxation, and
of the Danish United Nations Association.
And representing the City of Copenhagen, I have
been on a board of the construction of a concert hall,
of a high school,
of the Greater Copenhagen EU Office,
been on the Political Forum overseeing the construction of the Femern Belt tunnelbetween Germany and Denmark,
and in the General Assembly of Eurocities
Leadership Experience within the Profession
Politician, the City Council of Copenhagen, Denmark. Elected twice for the Social-Liberal party, Radikale Venstre, 2014 – 2021:
Committee for Health
Committee for Social Affairs
Committee for Children and Youth
Committee for Integration and Employment
Finance Committee
Chairperson of Political Group
Current position: Plan International. Green Growth and Private Sector Development Specialist. Managing large employment projects for youths in developing countries. Full time, 2020
United Nations Development Programme, New York, USA, Senior Partnership Advisor, Bureau of External Relations, 2013
United Nations Development Programme, Nordic Office, Denmark. Communications Consultant. 2012
The United Nations/UNOPS, Iraq Office, Jordan/Iraq. Business Development and Communications Officer. 2010-2011
The United Nations/UNOPS, Afghanistan Office, Afghanistan. Business Development and Communications Officer. 2009-2010
The Copenhagen Consensus Center, Denmark, Co-founder, Project Manager and Head of Communications. 2006-2009
Master degree in International Business and Development Studies + Master Degree in Africa Studies
Key Qualities and Strengths
I have in-depth experience within ILGA's main purpose of furthering the LGBT+ cause both in terms of designing policies, action plans, media and communication strategies, activism, events, and, being a public speaker.
In addition, I bring a strong sense for strategy development, (financial) oversight and governance from my years as a politician and my political committee work as well as from various boards.
I know how to successfully lobby politicians, systems and interest groups so that they can be change agents on our behalf.
I have been a project manager in every position I have ever held and am experienced in managing staff, budgets, deliverables, reporting, and anything else related to large and complex projects.
I am highly qualified within strategic communications as I have held various communications positions in my career. I have managed to get stories on CNN, the Washington Post, the Economist, The Wall Street Journal, Reuters, and op-eds syndicated through global syndications like Project Syndiate, as well as been in every Danish media as I have been a politician who has been a lot in the media. I know how to make a good headline.
Finally, I have done business development (fundraising) in all my jobs my entire career in countries from Afghanistan to the US, so I bring strong skills on that.
I speak Spanish, English and Danish.
---
Member organisations of ILGA-Europe are voting at the Annual General Meeting (AGM), which takes place Saturday.